Imagine a world where Disney does not exist. No Disneyland or Walt Disney World. No Disney princesses or Mickey Mouse, no Marvel, Star Wars and Pixar. It's a good investment test for a company. What would the world look like if the company did not exist? Other companies that are just as important include Google, Netflix or Amazon, but not many companies pass the test. My vote for an important company (especially if you have kids) is Disney.
Think happy thoughts
It's hard to think of any other company that has brought so much creativity, imagination and even happiness to its customers. I'm personally fascinated by the founder Walt Disney.
Walt was the first to develop feature length cartoon movies with Snow White. No one believed that audiences would sit through 90 minutes of animation. Walt acted out the entire film to convince his own artists. Predicting its budget was difficult. The end cost was $1.49 million, almost 6 times the original budget with Disney relying on bank debt to finish production. Its success paved the way for Pinocchio, Bambi and Dumbo giving importance to colour, songs and music (some people may disagree with the music part).
But aren't they being disrupted? Will Disney survive in a digital world?
Viewers have spent the last decade cutting the cable cord and moving towards digital services like Netflix. As such, Disney's exposure to Pay TV (Disney Channel and ESPN) is a concern, if you wanted to think like an investor.
Disney has faced similar transitions in the past; the invention of TV raised concerns around theatre attendance. At the time it was thought people would remain home and abandon going to the theatre but Disney benefited from the additional revenue stream that TV provided.
Disney splits its business into four divisions. Media which is under a cloud and Theme parks and licensing where we believe the outlook is strong.

What connects all the divisions is storytelling. Stories drive everything, great movies flow down to licensing and toys, become attractions at theme parks and even Broadway shows. Disney's ability to market and monetise their stories is unparalleled. Their story telling is not in doubt, but their distribution might be. Investors are focused on the transition to streaming and so is Disney, recently announcing a new Direct to Consumer division with multiple digital streaming products.
Digital streaming first base
Disney has been slow to pivot from cable to digital streaming. Thankfully Disney has made an interesting investment in this new streaming future by buying majority control of Major League Baseball Advanced Media (BAMTECH), a live baseball streaming service spun out from Major League Baseball.
BAMTech's underlying streaming technology is so good they attracted WWE (yes, the wrestling company has a streaming service), Fox Sports, Playstation Vue, Hulu and HBO Now. BAMTech got HBO Now up and running for USD$50 million in time for season 5 of Game of Thrones, however HBO has since transferred operations to their own internal team. Disney acquired 75% with the remaining owned by Major League Baseball's 30 team owners and partners such as the NHL.
3 App strategy
Disney is adopting a multi app strategy with three apps; Disney +, ESPN + and Hulu (of which they will own 60% post the 21st Century Fox acquisition). The main product, Disney+, is expected to be released in late 2019, utilising Disney's library in addition to new movies and series beginning with Toy Story 4, the sequel to Frozen and Disney's live action Lion King. Disney has released ESPN+ direct to consumer reaching 2 million subscribers in under a year - a good start, while Hulu will be the home of adult programming. Disney plans to make it easy for people to sign up for all three under the same username. But the shift to subscription is difficult. It's hard for a large profitable company to pivot to a new business model and thrive.
How to take on Netflix? Well you don't
It's Mission Impossible to take on Netflix. We believe they don't need to compete head on, instead Disney can carve out a different/smaller proposition based on brand quality rather than Netflix's quantity. Netflix takes up around 10% of TV screen time or 100 million hours a day in the US. There is plenty of market share for another quality streaming service. It's interesting to note that children heavily drive Netflix viewership; 60% of Netflix subscribers watch kids and family programming. So, what does Disney need?
Technology/distribution. Disney is obviously not a technology company. But they did the next best thing by acquiring one of the best streaming assets, BAMTECH above. It's also interesting to think about Disney's reach. Disney does not have direct to consumer relationships but according to the Themed Entertainment Association, a trade group, more than 38.8 million guests visited their US parks in 2017. In our opinion this group is a likely candidate for Disney+.
Content. Disney, Pixar, Star Wars, Marvel and the recent acquisition of 21st Century Fox. Need we say more?
People. Netflix's founder Reed Hasting and their unique culture wins out when it comes to culture. That said, the current Disney CEO Bob Iger is no slouch; he was involved in Disney's acquisition of Pixar, Marvel and Lucasfilm when they weren't for sale. Good engineers are critical, and we believe Disney's big technology push (three apps) and their brands make the company more attractive to engineers. It's interesting to see Disney increase communication to investors and employees by splitting out a new direct to consumer division. The CEO is incentivising management to get behind the effort with qualitative performance indicators rather than quantitative or dollar based, focusing on creating great content and subscribers.
Is there a roadmap? SAAS (Software as a service)
We believe a helpful analogy is to look at the transition software companies made to the cloud. Companies like Adobe and Microsoft went from selling packaged perpetual software licenses (authorising an individual to use the program indefinitely) to annual online subscriptions leading to a direct relationship with customers.
It's a difficult transition. Adobe suffered as upfront sales declined while expenses increased as they invested in new cloud products. But there were numerous long-term benefits; a direct relationship with the customer, resulting in better data, a more responsive product and recurring subscription revenues. The lesson was to over-communicate the transition to all parties, investors, customers and employees and commit to short term pain for long term gain.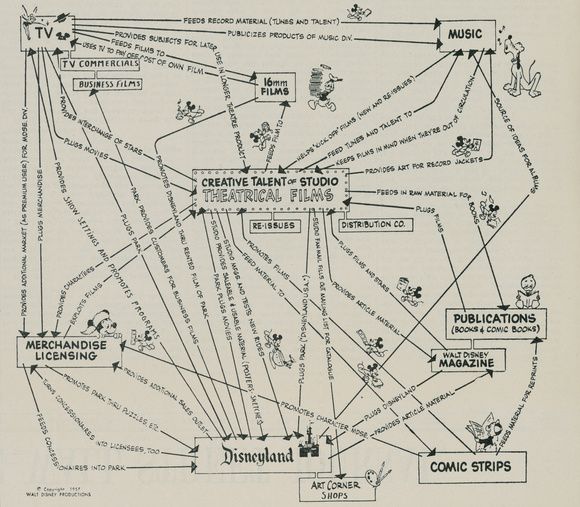 From box office to subscription
The business story around Disney will change over time. There's the opportunity for Disney to transform from a hits-driven business, and investors will shift their focus from box office opening weekends to subscriptions, and maintaining a direct relationship with the consumer.
Let it go, direct to consumer
We believe Disney's new corporate structure gives them a good chance of success. The new direct to consumer streaming division will be reported as a separate division. The business will clearly show the new streaming service paying for content from the existing studio division. Investors will be able to clearly see the investment/losses in the new direct to consumer business separate from the core business. Innovation will be parked outside of the existing business, giving the new business unit more time and greater visibility to achieve its goals, while not being a drag on the existing business.
What does the Fox say?
The acquisition of 21st Century Fox is also a factor in streaming. 21st Century Fox's film and TV libraries will significantly enhance the content and IP of their direct to consumer service. See combined key content below.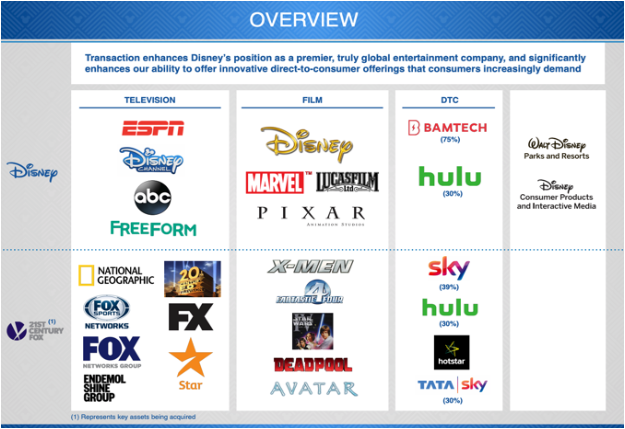 We also can't forget their theme park and licensing business.
What won't change over time? Good storytelling
We love Amazon's founder Jeff Bezos' question on focusing on things that won't change over time rather than change itself. For example, he knows ten years from now that customers will still want fast delivery and vast selection. That won't change. Disney fulfills the need for great storytelling and compelling family experiences; that will always remain, but distribution can and will change. While there are concerns about the media business, we would argue their characters and parks have little disruption risk. We believe it's incredibly hard to replicate Disney's mindshare as a theme park. Visiting Walt Disney World is a rite of passage for kids and adults, it's the modern version of a medieval pilgrimage.
Included in theme parks, Star Wars land is
Disney are introducing a Star Wars Land (Galaxy's Edge) in Disneyland and a twin in Walt Disney World later this year. It's a sign of breadth in content that they haven't monetised Stars Wars at the parks. It will be the largest expansion since Disneyland opened in 1955. It's going to be so big Disney isn't even bothering to market it.
Pricing power has always been an indicator of value to customers. If you're able to increase prices you generally have a good product and a good business. Prices have increased every year like clockwork - I can't think of many companies that have increased prices so consistently. Disney are conscious of raising prices as they want their theme parks to remain affordable, but they are testing dynamic pricing, similar to airlines, where prices fluctuate based on when a ticket is purchased i.e. last minute vs ahead of time.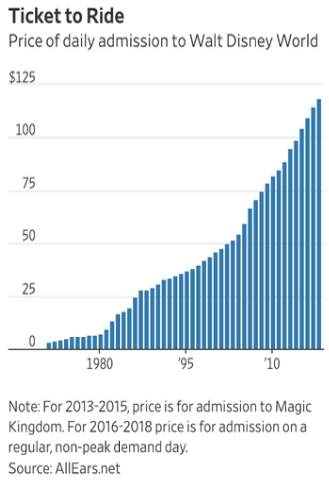 The circle of life continues
In our opinion we believe Disney has the assets and capability to transition to direct to consumer with streaming services. Disney's strength remains its storytelling ability. This storytelling drives movies, TV, licensing, theme parks and hopefully now streaming. Back in the day television threatened to disrupt film and radio. Disney pivoted creating TV shows. Now digital streaming is threatening traditional TV and we're betting Disney will again be able to pivot and thrive. It's fitting a live action Lion King remake will be one of the first releases, the circle of life for Disney continues.
The Spaceship Universe Portfolio and the Spaceship Index Portfolio invest in Disney at the time of writing.
Important! We're sharing with you our thoughts on the companies in which Spaceship Voyager invests for your informational purposes only. We think it's important (and interesting!) to let you know what's happening with Spaceship Voyager's investments. However, we are not making recommendations to buy or sell holdings in a specific company. Past performance isn't a reliable indicator or guarantee of future performance.