Sometimes the best investment opportunities require some outside the box thinking. In this blog, we examine the investment case for one of our holdings in the Spaceship Universe Portfolio, Naspers.
Naspers was founded in 1915 in South Africa and has transformed itself from an apartheid era newspaper publisher into a multinational giant with private equity style investments in technology firms, particularly those emerging markets such as India, Brazil and Russia.
But you can't understand Naspers without understanding Tencent. Naspers invested $32 million in Chinese social media giant Tencent in 2001, one of the best investments in history. Tencent is now China's largest company by market capitalisation and Naspers crucially retains a 31% stake in Tencent today, having sold no shares before 2018.
For investors, buying Naspers is nearly the same as buying Tencent, given the value of Naspers Tencent stake dwarfs the value of Naspers' other assets. It also has additional advantages.
Let's start with Tencent
Tencent dominates the digital consumer landscape in China. It owns the leading social media platform in China, the Weixin and WeChat ecosystem with 1.08 billion monthly users worldwide as of 3Q18, and is the world's leader in mobile gaming. Its other businesses involve mobile payments (WeChat Pay is the #2 payment player in China), media streaming, cloud computing and instant messaging (QQ).
China has grown into the largest games market in the world with US$34.4 billion in estimated revenue. Tencent is particularly well positioned in this market, capturing about 42% market share. It owns and hosts highly popular mobile and PC games such as Honor of Kings, League of Legends and Clash of Clans. It also owns equity stakes in game publishers Riot Games, SuperCell, Epic Games (publisher of Fortnite) and Activision Blizzard. Tencent's dominance in mobile games, distribution capabilities and investments in leading software developers helps it maintain a steady pipeline of popular games. Tencent is also shielded from competition from overseas developers, as overseas developers must go through Chinese firms to release their product domestically.
And Tencent is not just a gaming company either. Social advertising only makes up 13.8% of revenue (Google and Facebook are both greater than 80%) and is likely to become a larger part of that growing pie as the company ramps up advertising penetration and monetisation in its products. WeChat Moments are currently limited to 2 ads per day, a fraction of what users see on other social platforms. Engagement continues to be very strong as well with reports that WeChat users spend more time every day on the platform than Facebook users.
Tencent also owns stakes in other high growth internet companies such as Reddit, Pinduoduo and Meituan.
Fair to say, Tencent's growth opportunities are pretty compelling.
Buying Tencent at a discount through buying Naspers
Tencent's trades on a forward price to earnings ratio of 35x as at 27 February 2019. Tencent's share price was down about 27% from its highs in early 2018. This was largely due to the Chinese government suspending approval for new games and broad market sell-offs in emerging market shares and technology shares
While Tencent stock is not the most expensive it has ever been, it's clearly not a cheap company either. The average company on the Hong Kong Stock Exchange trades on a price to earnings ratio of 11x and the average company on the S&P 500 trades on a price to earnings ratio of 16x.
This is where Naspers comes in.
Naspers trades on a market cap that's ~US$30 bn less than its 31% stake in Tencent. This means if we buy Naspers shares, we can effectively buy Tencent shares for 23% less than their direct market value.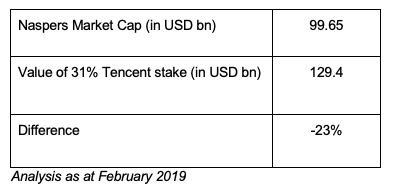 Translating the 23% discount to a P/E ratio, that's like buying Tencent for 27 times earnings, rather than 35 times earnings.
However, if we also take into account the value of Naspers' other businesses, using a sum of the parts approach, the discount can stretch up to estimates around 40%. Then, we're only buying Tencent for 21 times earnings.
We'll get back to Naspers other businesses later.
All things being equal, 21 times earnings or 27 times earnings (if we want to ignore Naspers' other businesses) are more attractive valuations. While still more expensive than the average level for the market, it seems an extremely attractive price given Tencent's calibre and growth opportunities.
Why does the discount exist?
As we can see from the chart below, the discount began to appear in 2016, as Tencent shares began a steep ascent, with the biggest discount (~36%) achieved when Tencent shares peaked at around HK$450 a share in early 2018.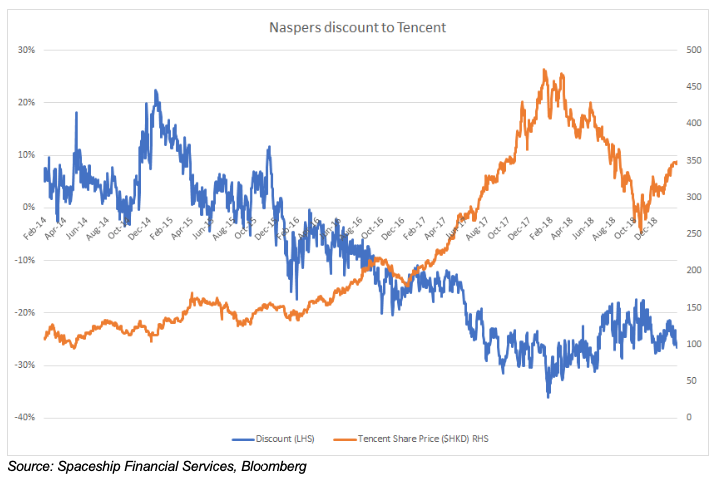 There are several reasons why this discount could exist:
Firstly, there are concerns that Naspers will have to pay capital gains tax when it sells its shares in Tencent, since South Africa imposes a 22.4% capital gains tax on companies and pretty much all of the value of the company would be subject to capital gains.
When they sold a 2% Tencent stake in 2018, the company said they believe the capital gains liability on potential share sales to be minimal as the bulk of shares were sold to international investors. This is because South African tax laws require Naspers to pay capital gains tax only on the Tencent shares sold to South African investors. While there is still some uncertainty as to the tax impact, it doesn't seem to be a primary issue.
Secondly, investors could be skeptical of management's ability to allocate and manage capital. Naspers have a decent track record as an investor, generating an average internal rate of return of 19%, excluding its investment in Tencent, according to Goldman Sachs. However, most of these investments are still loss-making and require capital, constraining the company's free cash flow, so it's fair that some investors are hesitant as to whether management can continue to deliver value to shareholders.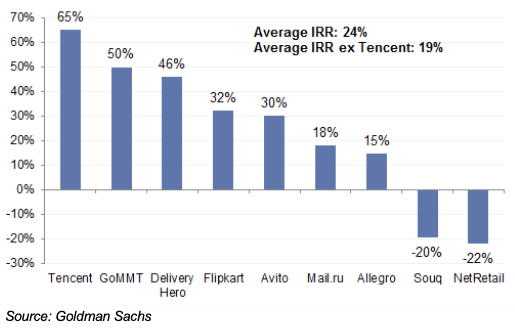 Lastly, Naspers' primary listing is on the Johannesburg Stock Exchange, making it out of reach for many investors. South African institutional shareholders were also likely to become forced sellers. As the share price appreciated and with Naspers making up ~19% of the JSE (Johannesburg Stock Exchange) All Share Index, Naspers became so big in South African equity portfolios that managers could no longer bear the concentration risk. This seems to be a significant factor in the discount, with some shareholders calling for Naspers to move its primary listing to the US instead. Naspers turned down that suggestion due to tax implications.
Can the discount close?
There's been significant shareholder pressure for management to close the discount. As a result, management have been attempting to demonstrate they can monetise their assets. Naspers sold 2% of their 33% stake in Tencent in late 2018 without generating a massive tax bill, though they cautioned they weren't going to sell any more shares in the next three years. They sold their 11.18% stake in Flipkart to Walmart last year for US$2.2bn. They plan to spin-off their video entertainment business sometime this year.
None of these actions have really worked so far.
While the discount is unlikely to close in the short term, we believe the fundamental value of the business should reflect in the share price at some point.
Getting something for nothing
As previously mentioned, Naspers has other businesses that we haven't taken into account yet. Since Naspers trades at a discount to its stake in Tencent, investors today effectively get the other businesses for "free".
Naspers' established businesses include its TV operator business, MultiChoice and its online classified business, OLX Group. MultiChoice has a monopoly position in paid TV in South Africa and is dominant in 15 other countries in Africa, with over 13 million subscribers. OLX Group operates in 41 markets and has 330 million monthly users. The video entertainment and online classified segments contributed US$211 million and US$47 million in trading profit respectively in the half year ended September 2018.
Among its portfolio of tech investments: a 28% stake in LSE-listed Russian internet company, Mail.ru worth ~US$1.4bn, a 43% stake in Nasdaq-listed Indian online travel agency, MakemyTrip, worth ~US$1.2bn, and a 22.8% stake in Frankfurt Stock Exchange listed online food delivery company, Delivery Hero, worth ~€1.5bn.
It's evident that Naspers' other portfolio holdings are significant and shouldn't be ignored by investors.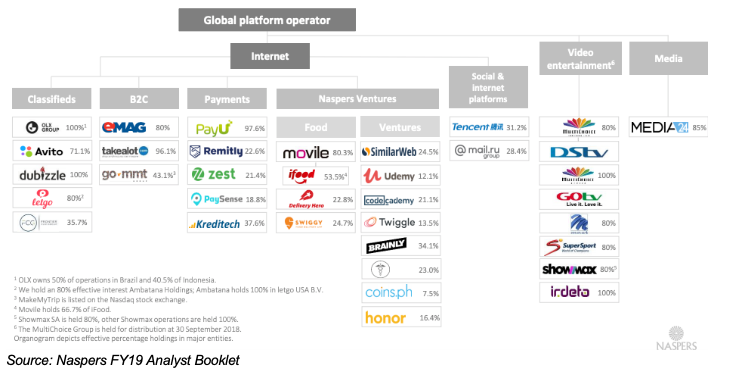 Bottom Line
Tencent is an internet company worth watching. It has a strong earnings moat within its domestic market in mobile games and social media, and significant growth opportunities to expand its reach in gaming, advertising, media and mobile payments.
Buying Tencent through Naspers offers value to long term investors, given the significant discount Naspers trades to the value of its Tencent shares.
The Spaceship Universe Portfolio currently invests in Naspers and Tencent.
The Spaceship Index Portfolio currently invests in Tencent.
Important! We're sharing with you our thoughts on the companies in which Spaceship Voyager invests for your informational purposes only. We think it's important (and interesting!) to let you know what's happening with Spaceship Voyager's investments. However, we are not making recommendations to buy or sell holdings in a specific company. Past performance isn't a reliable indicator or guarantee of future performance.