As you may have noticed, we launched our newest managed fund, the Spaceship Earth Portfolio. So many of you asked us for a sustainable (also referred to as responsible, ethical or ESG) investment option and in 2020, we delivered on that for you.
We'd spent the last year developing the portfolio and researching how we could deliver an investment option that was true to label. Our "Where the World is Going" investment philosophy felt naturally aligned to sustainable investing given our focus on high quality companies that benefit from future trends.
It's fair to say that our sustainable investing journey is only getting started with the launch of the Spaceship Earth Portfolio. There's so many areas we're excited to develop further at Spaceship. Keep your eye out for new developments!
The case for sustainable investing
The Spaceship Earth Portfolio aims to invest in companies that have a positive impact on people and the planet, by contributing towards the advancement of the UN Sustainable Development Goals (SDGs). The UN SDGs are a collection of 17 goals designed to achieve a "better and more sustainable future for all" The Spaceship Earth Portfolio also integrates Spaceship's Where the World is Going framework to identify businesses with strong competitive advantages.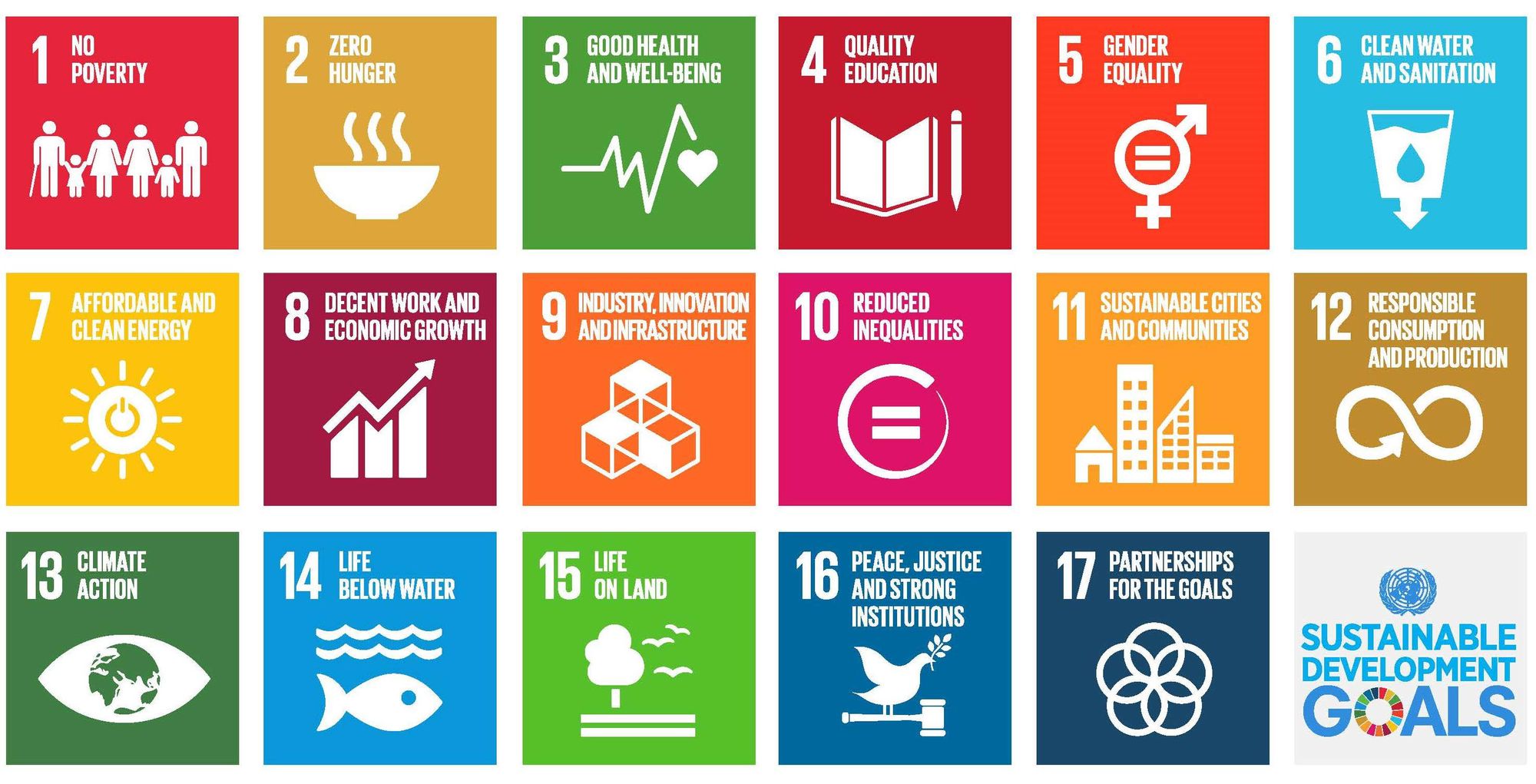 It's not just about feeling good about your investments. Studies have shown that environmental, social and governance factors can have a material impact on long-term business prospects. Climate change risk is a case in point. Many companies will be negatively impacted by the physical risks of climate change or the transition risks of moving to a low carbon economy. For other companies, it can be an opportunity to develop technology or solutions to help mitigate climate change.
That's why our investment strategy goes beyond excluding investments in controversial companies -  for example, we do not invest in fossil-fuel companies, firearms or tobacco. We believe purpose driven companies that address long-term global issues will outperform in the long run.
Key portfolio themes
The renewable energy revolution
SDG 13: Climate Action, SDG 7: Affordable and Clean Energy
Climate change has moved faster than many people thought possible and is having a dramatic impact on the world. Temperatures and sea levels are rising, glaciers are melting, and extreme weather events are increasing in both severity and frequency.
Policy will likely be a driver of massive amounts of investment. Under Europe's current emissions trading scheme, emissions must be cut by 40% by 2030 (vs 1990 levels). The €1 trillion European Green Deal will likely deepen that cut to at least 55%.
But economics and technology will eventually drive the transition to a clean energy world. As costs continue to dramatically fall for wind, solar, and energy storage, driven by advances in technology, we are reaching an inflection point where renewable energy is becoming increasingly competitive with conventional energy in the absence of subsidies and incentives.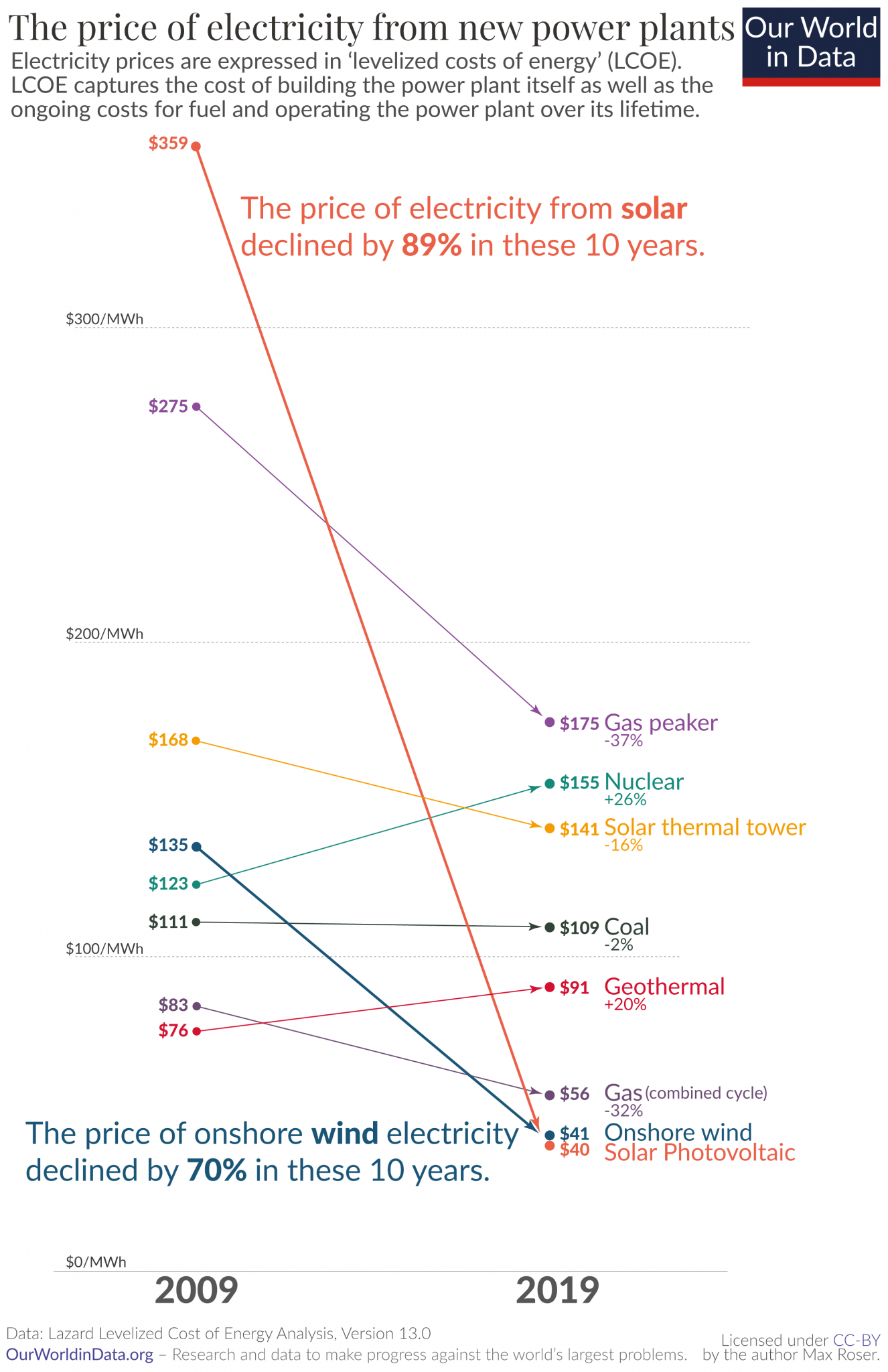 In the Spaceship Earth Portfolio, we currently have a ~11% exposure to renewable energy companies that benefit from these trends. Our exposure tilts to solar and wind energy, areas in which we expect to see strong growth. We are also researching emerging technologies like hydrogen fuel cells, fusion, tidal waves etc., but it is likely growth and investment will be driven by proven technologies in the medium term.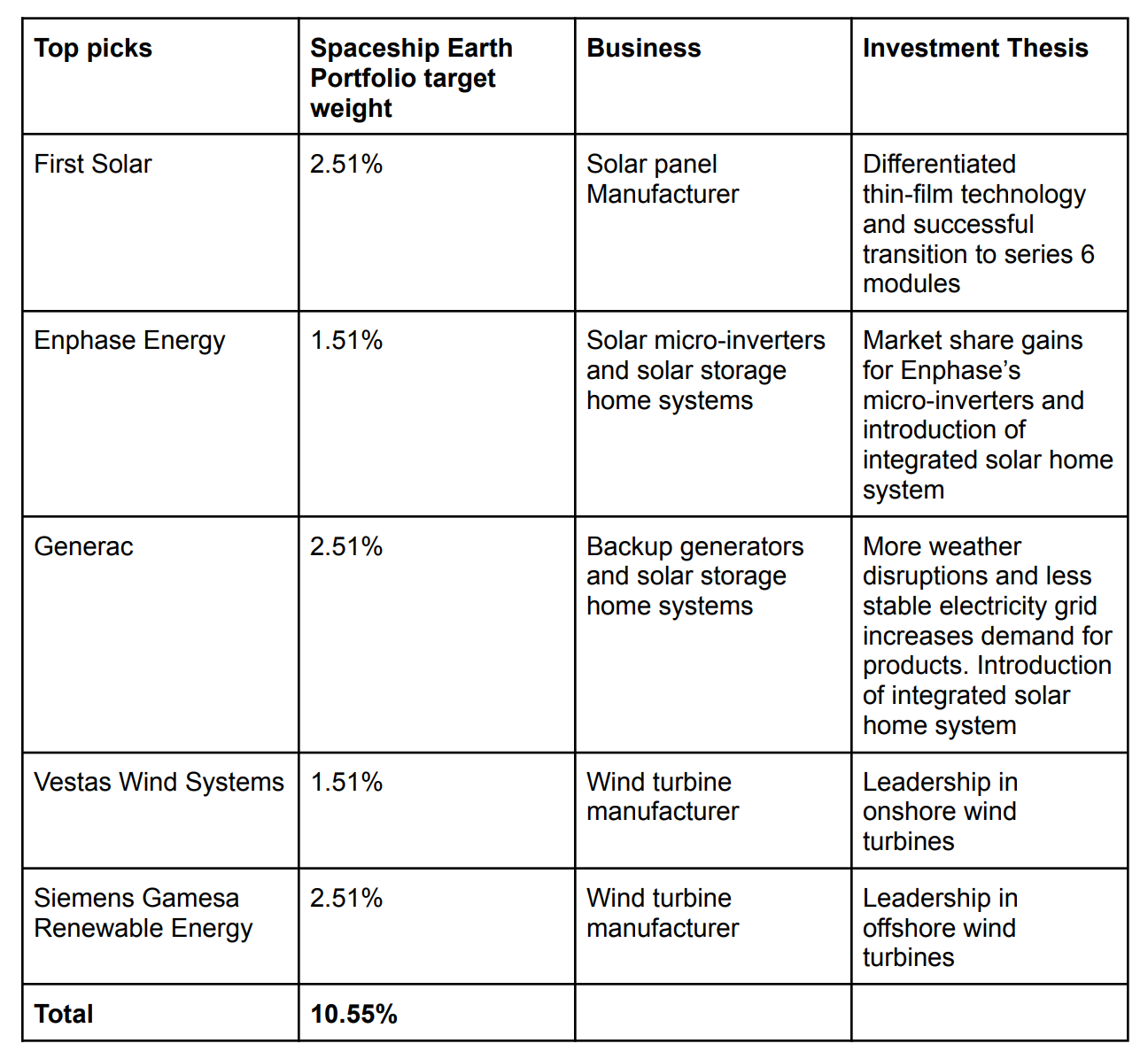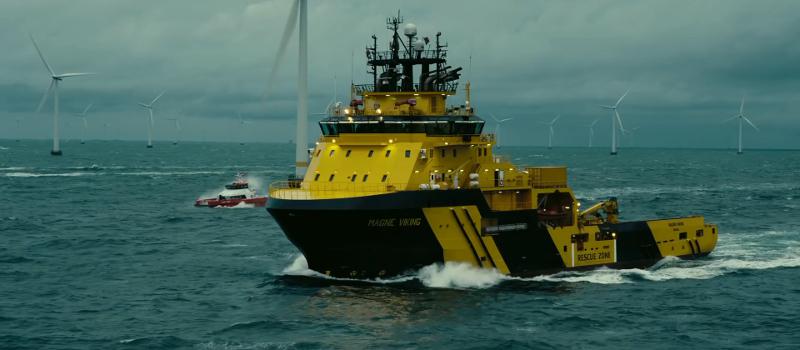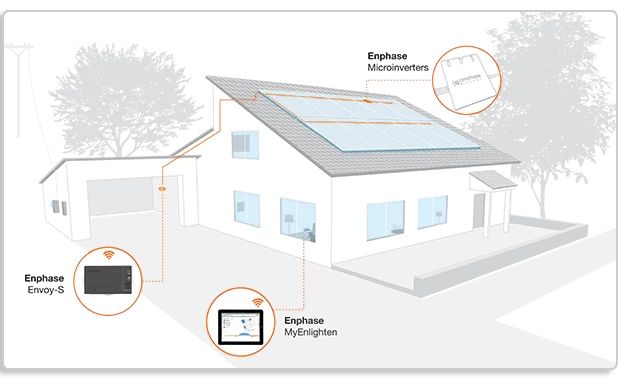 The circular economy
SDG 12: Responsible Consumption and Production, SDG 2: Zero Hunger
Humans generated 2.01 billion tons of solid waste in 2016, which could rise to 3.4 billion tons by 2050, according to the World Bank. And the waste problem is deepening. China used to import and recycle more than half the world's waste but banned this practice in 2017, seeing it as an environmental and health hazard. More waste is ending up in landfills (which emit greenhouse gases at high levels) and incinerators (creating toxic air pollution) or littering waterways.
Countries are rising to the challenge of fixing this problem with policies encouraging a circular economy and bans on single-use plastics. For instance, Tomra Systems has created reverse vending machines that are the backbone of container deposit schemes in many countries, including Australia. Container deposit schemes give money back to consumers who return beverage containers for recycling, and have proved to be highly effective at increasing recycling rates.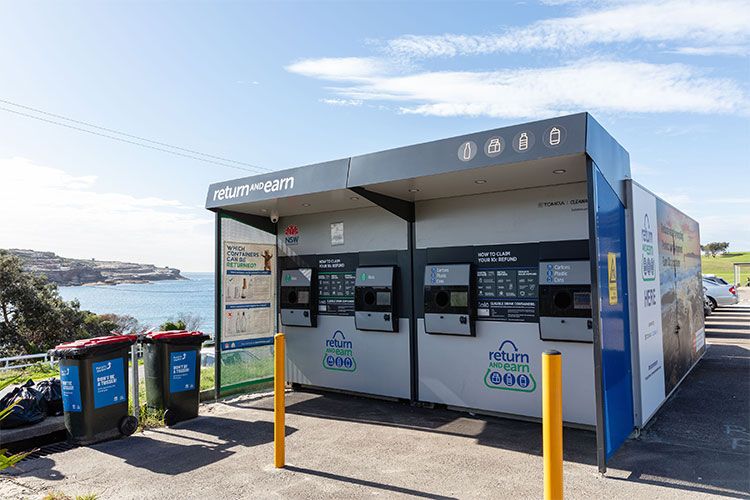 Energy efficiency
SDG 13: Climate Action, SDG 9: Industry, Innovation and Infrastructure
Renewable energy is not the only way to tackle climate change. Energy efficiency — using less energy to perform the same task — is also key. For instance, AMD has significantly reduced the energy demand and greenhouse gas emissions that result from making technology devices, through its innovative CPUs. AMD recently achieved its goal to become 25x more energy efficient compared to 2014 levels.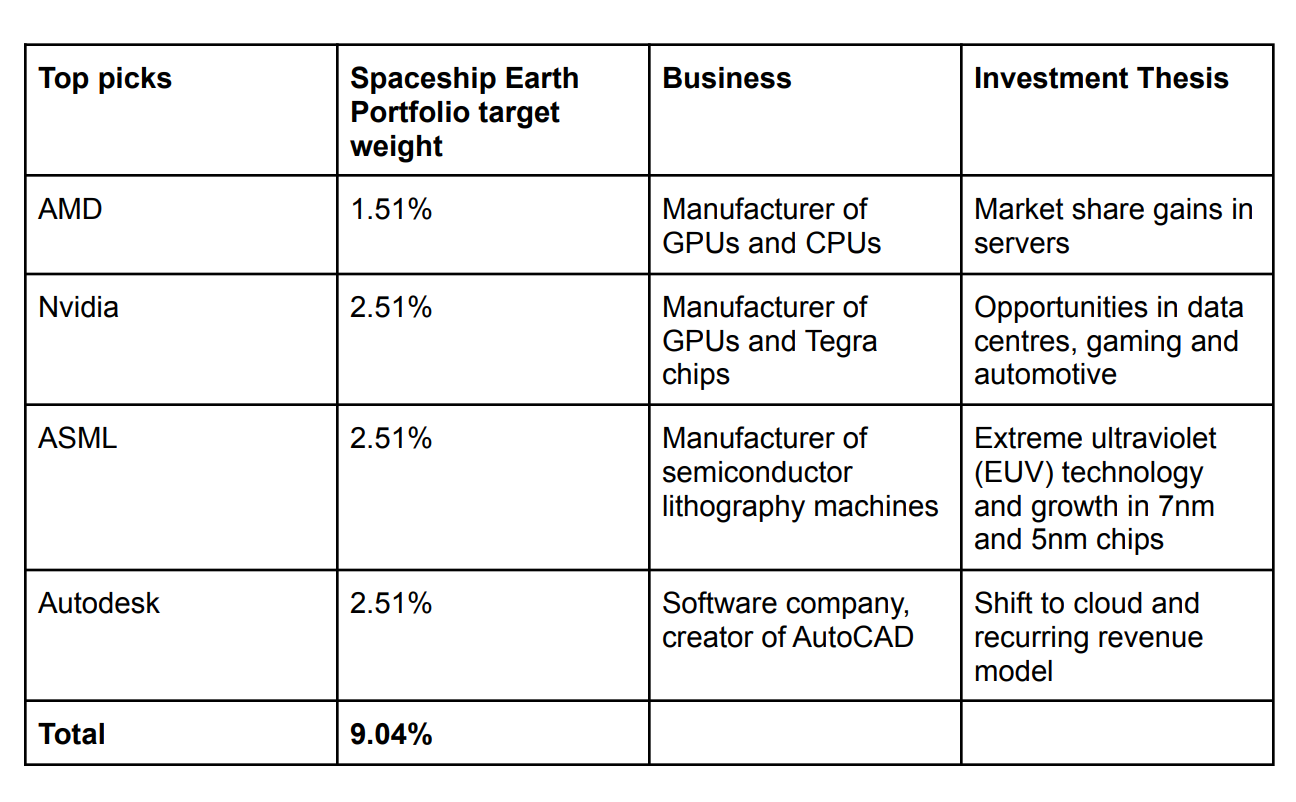 Water sustainability
SDG 6: Clean Water and Sanitation, SDG 14: Life Below Water
While we might imagine water is a plentiful resource, it isn't the case for everyone. Only 0.5% of all the water on the planet is fresh water and therefore potentially usable by people, animals, and plants. And demand for that water is only growing, driven by population growth, urbanisation and climate change (causing more dry periods). According to the World Resources Institute, a quarter of the world's population face "extreme water stress." This includes some of the most populous cities in the world such as Mexico City, Chennai, Sao Paulo, and Capetown.
The goal of providing safe, clean water for people and agriculture is critical to the planet and one that many companies are working on. Water treatment, smart infrastructure, and efficient delivery are key areas where companies such as Xylem and American Water are working to provide solutions.
Life can't exist without water, making it one of the most defensive investment thematics out there.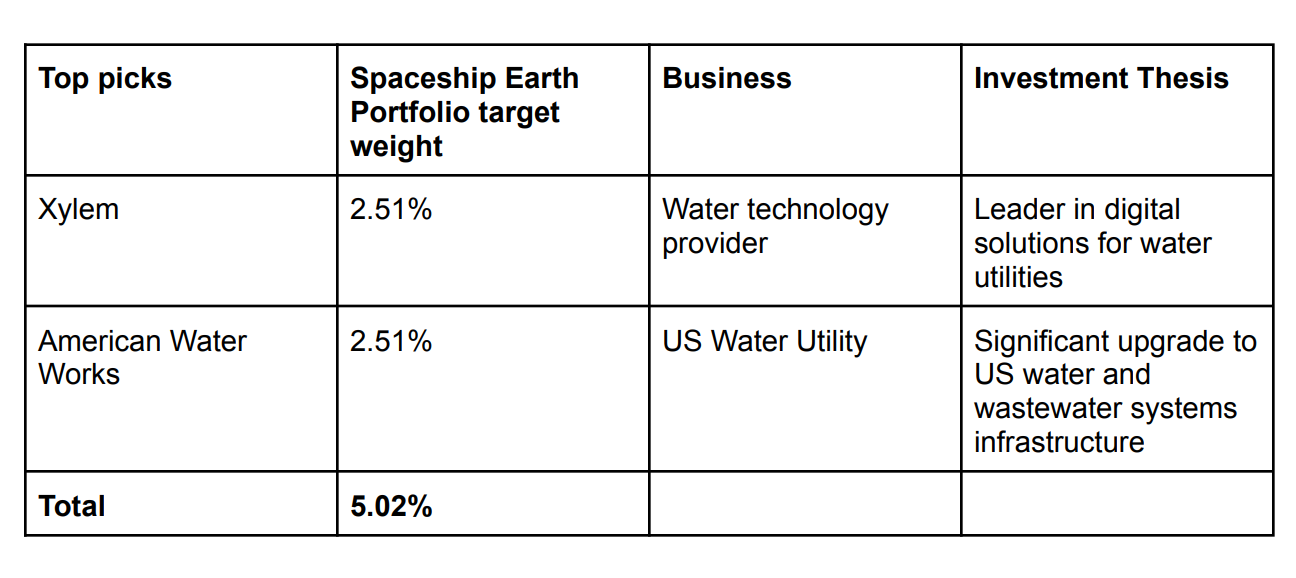 The future of healthcare
SDG 3: Good Health and Well-being
Healthcare is a sector that aligns well with the Spaceship's Earth Portfolio's investment philosophy. Healthcare technology has made significant advances over the past few decades that enable people to live longer and healthier lives. Opportunities abound in this sector, including new and improved medical treatments, more efficient and convenient delivery to consumers, and importantly, technology that lowers the costs of healthcare.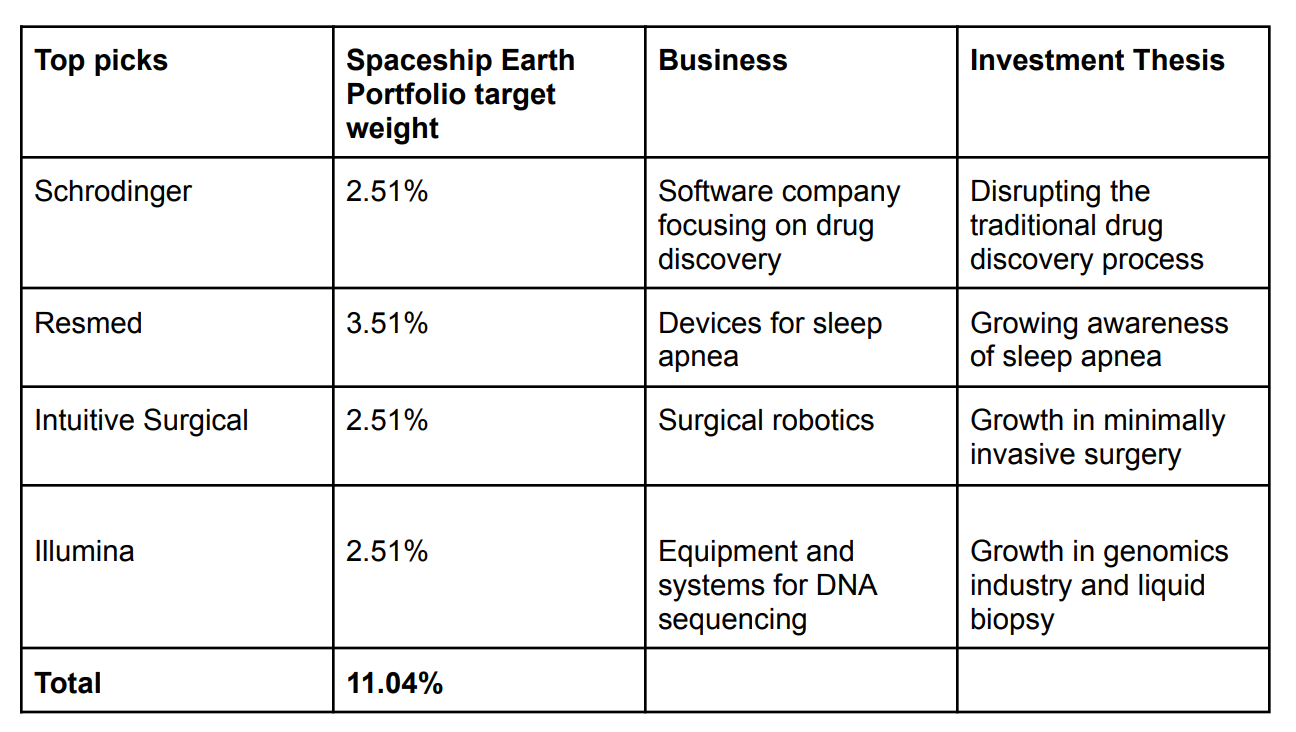 Democratising commerce
SDG 8: Decent Work and Economic Growth, SDG 9: Industry, Innovation and Infrastructure
The pandemic has driven home the reality that digitalisation is a big business differentiator for small and medium businesses (SMBs). In the face of decreased purchasing intent and limited in-store traffic, SMBs that pivoted quickly to technology demonstrated higher adaptability and resilience compared to those that did not.
Fortunately, this is easier than ever. Services such as Square, Etsy, Mercardo Libre and Shopify are democratising access to commerce and distribution, advantages conferred to larger businesses and corporations in the past. For instance, platforms like Shopify allow for fast scaling of ecommerce, integrating all the essential components into an easy to use solution.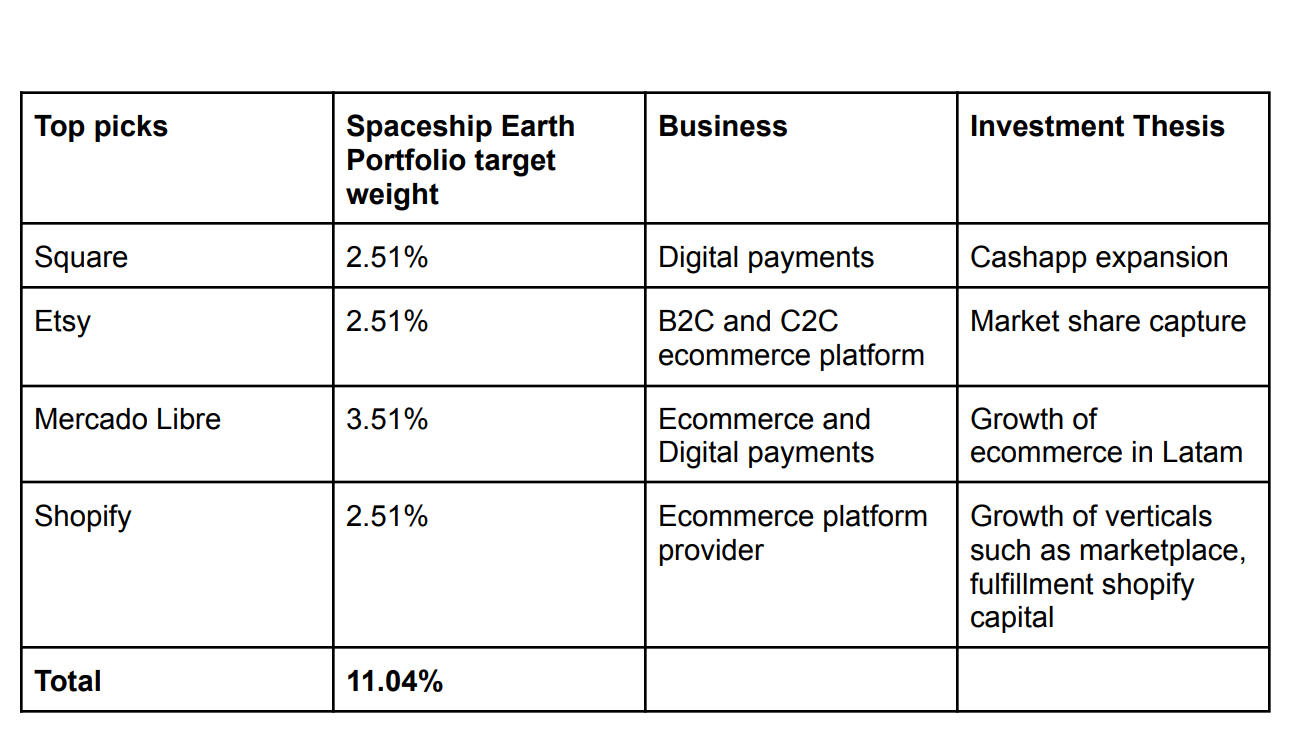 The sustainable consumer
Multiple goals could be applicable.
Consumers are becoming more aware of the impact of their purchasing habits and moving away from trends such as fast fashion, which is often tied to worker exploitation in developing countries, and promotes over-buying and excessive waste.
The idea of a sustainable consumer brand can seem contradictory. However, some brands seem to be striking a good balance between improving their environmental footprint, treating their workers well and profitability. We prefer companies that keep a tight focus on their supply chains and where they source raw materials, such as Starbucks, Kering and Lululemon. For instance, Starbucks coffee is 99% ethically sourced, meaning that farmers are paid fair wages and that coffee beans are cultivated according to environmentally-friendly methods. In response to low industry prices and rising costs of production, Starbucks recently paid $20 million in premiums on top of market prices, to more than 8,000 farmers in Mexico, El Salvador, Nicaragua and Guatemala.
Buying second hand where possible might be the most sustainable option. Consumer-to-consumer ecommerce platforms such as Mercari are riding the boom in users selling and buying thrifted outfits, which is especially popular among Gen Zs and millennials.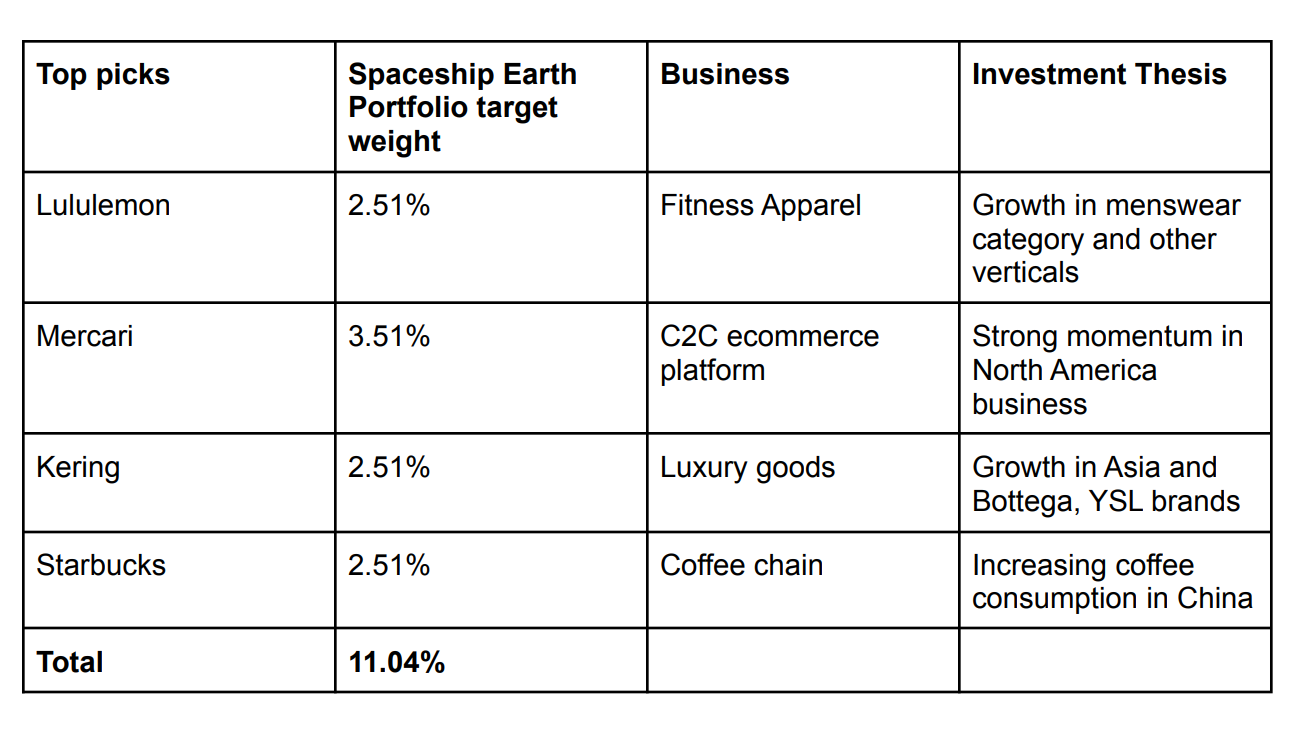 The bottom line
While researching these companies, we've been encouraged to see that the right people and technology have the potential to fix some of the world's greatest challenges. Spaceship aims to also play a positive role in helping address these challenges through the Spaceship Earth Portfolio, and in doing so, help shape "where the world is going."
We hope to share more of our thoughts about the companies in the Spaceship Earth Portfolio in the coming months, including company deep-dives. As always we're keen to hear your thoughts!
---
The companies in the Spaceship Earth Portfolio (and their respective weightings) are current as at 1 December 2021.
We're sharing with you our thoughts on the companies in which Spaceship Voyager invests for your informational purposes only. We think it's important (and interesting!) to let you know what's happening with Spaceship Voyager's investments. However, we are not making recommendations to buy or sell holdings in a specific company. Past performance isn't a reliable indicator or guarantee of future performance.
---
Read/watch:
UN Sustainable Development Goal Agenda: www.un.org/sustainabledevelopment
The Word In Data: Why did renewables get cheap so fast? And what can we do to use this global opportunity for green growth? https://ourworldindata.org/cheap-renewables-growth
Netflix: The World's Water Crisis https://www.youtube.com/watch?v=C65iqOSCZOY
Focal Point: The Extreme Physics Pushing Moore's Law to the Next Level https://www.youtube.com/watch?v=f0gMdGrVteI&feature=youtu.be