You may have heard: Uber recently went public, in one of the largest IPOs since Alibaba in 2014. Spaceship's Voyager portfolios are not participating, but they are already exposed to Uber through their investments in Softbank.
SoftBank is a Japanese telecommunications company that runs the largest technology venture capital fund in the world (approximately US$100 billion) — also known as the Vision Fund. SoftBank invested $7.7 billion in return for a 16.3 per cent stake in Uber.
Prospectus is taking us for a ride
Uber's prospectus offer to shareholders was a 396-page blockbuster. It surprisingly lacked the key technology metrics we would normally expect, such as the cost to acquire customers or drivers, the lifetime value of a customer, customer retention and customer churn. Some questions were answered — and yes, you're not the only one waiting for Uber Eat deliveries!
The big answers as at 31 December 2018
The average wait time for a rider to be picked up by a driver is  five minutes.
The average delivery time with Uber Eats is approximately 30 minutes.
The average Uber fare was less than US$9.
14 million trips completed each day.
Cash-paid trips made up 13 per cent of bookings.
15 per cent of bookings started or ended at an airport.
24 per cent of bookings were from five cities: Los Angeles, New York City, San Francisco, London and São Paulo.
Sharing is caring yet Uber is only 1% of all miles driven globally
What we find amazing, is the size of Uber's market. Uber accounts for less than 1 per cent of all miles driven globally. Just 2 per cent of the 4.1 billion people living in the 63 countries Uber operates in actually used the Uber platform last quarter. There were 91 million monthly active users of Uber and Uber Eats in 2018.

The price of convenience (pricing power)
Uber's combined ride commission or take rate is 20 per cent of fares or what they call bookings. This is high compared to some other travel services. For instance, hotel booking site Expedia — where Dara Khosrowshahi, Uber's CEO, previously worked and sits on the board — charges 10.5 per cent. Uber's ride-sharing commission varies from 12 per cent to 24 per cent of each trip depending on geography.
Uber's commissions are offset by driver incentives; these payments can exceed the commission received from drivers, which totalled $837m in 2018. Uber Eat's take rate declined from 12 per cent in 2017 to 10 per cent last year seemingly because of deals with large restaurants such as McDonald's.
Not like other tech
We believe other tech stocks such as Amazon and Netflix have expensive valuations because they have the ability to raise prices alongside volume, increasing future profitability. For Uber, we don't see price increases, but a reduction in competition and driver incentives reducing losses. Uber's growth appears to be more about volume than price. We think additional services similar to Uber Eats will be needed to add value to the original ride-sharing network.
Take away from takeaway (Uber Eats)
Uber Eats is already the largest meal delivery platform outside of China, just over four years after launching. We think that Uber Eats amplifies Uber's ride-sharing network effort, increasing driver utilisation, leading to higher wages and more drivers and reducing customer wait times, which leads to more customers, which in turn leads to more drivers. It would also appear that Uber Eats doubles as a customer acquisition tool for ride-sharing, with 50 per cent of first time Uber Eats customers new to the Uber platform.
Of Uber's 91 million monthly users, more than 15 million received a meal using Uber Eats in the quarter ended 31 December 2018, tapping into a network of more than 220,000 restaurants in more than 500 cities globally.
The hybrid, humans and robots
We've always been interested in Uber's autonomous plans. On the way to autonomy, Uber believes in a future hybrid model, a mix of drivers and autonomous cars. The use of drivers or autonomy will depend on the complexity of driver routes, traffic and the weather. Given 24 per cent of Uber's operations are in five major metropolitan cities, we believe drivers will be needed for a while to come.
Terminator judgment day is still to come
Autonomy is an opportunity, but also a risk, to Uber's business model. In 2018, Uber incurred $457m of research and development expenses in autonomous and other technology initiatives. It appears that Uber has offset some of this risk with a billion dollar investment from SoftBank, Toytoa and Denso into their autonomous vehicle business, valuing it at US$7.25 billion.
Uber owned cars?
The question is, how does autonomy affect the business model and capital requirements? Will Uber own the cars or lease from others? There is revenue upside, as Uber will not be sharing fares with drivers, but there will be investments in autonomous cars including holding costs when cars are not being utilised. It also brings new competition; Google's Waymo has 80,000 orders for its robo-taxis.
Part-time drivers with car ownership is likely more capital-efficient for Uber than autonomous cars. This is because in the longer term, as costs of autonomous cars decrease, Uber should benefit, but the transition is likely to create uncertainty. To us, a period of hybrid autonomy, with both drivers and autonomous cars increasing the supply of the network, makes sense for customers and likely for Uber as it navigates the transition.
One big ride-sharing family
Competition brings us back to SoftBank and its investment in ride-sharing. SoftBank has kicked off a pricing war with its ride-sharing investments. The question is: will SoftBank convince the ride-sharing companies to be profitable and play nice? Incentives are wonderful and SoftBank has billions of dollars in incentives to do so. SoftBank is either the biggest or amongst the largest shareholders in regional ride-sharing leaders such as Didi, Ola, Doordash and Uber.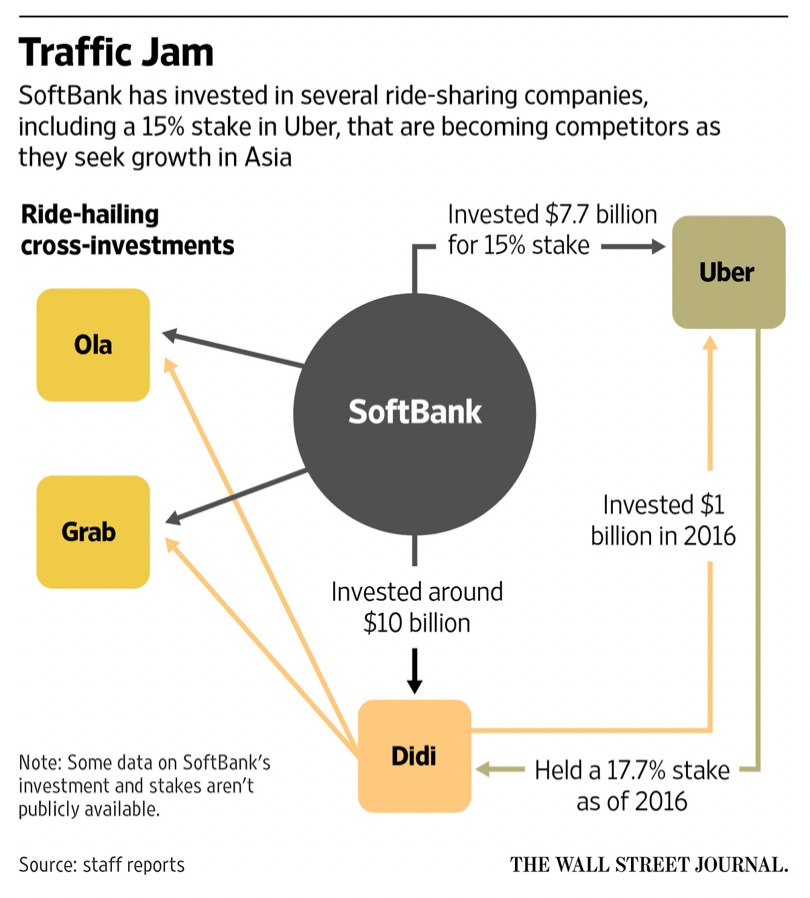 Cash burning a hole in your pocket
We believe that SoftBank helped kick off promotions and driver incentives with its investments to build adoption of ride-sharing, and with its influence, it can help reduce price wars. It's also notable that Uber had little focus on spending, with no CFO for 3.5 years. The current CFO has been there for 7 months, suggesting that financial discipline has not been a priority. It's interesting to see that Uber itself is a shareholder in a number of overseas competitors (see below).

SoftBank's plan is that these companies can cooperate on research and development as the world appears to move towards autonomous cars. SoftBank additionally has invested in GM's self-driving firm Cruise and has a joint venture agreement with Toyota. Their holdings in each other should encourage focus on their own regions rather than expansion into other territories.
Red light risks
Ride-sharing is a big market but we think the risks are large as well.  Some risks that we believe exist are as follows:
Autonomy changes the ride-sharing business model — more revenue (no drivers) but higher capital requirements — meaning how it executes the transition is crucial.
Ethics and regulation. Approval for autonomous cars is key but there is also the question of ethics. If lives are at risk should it prioritise the passenger, groups of pedestrians, humans over pets, kids over the elderly? It's a moral question individuals will like have different preferences based on their beliefs and culture. Setting up a universal moral code if ever agreed on would be difficult in our view.
Costs don't necessarily scale. More growth requires more drivers which requires more incentives to encourage greater supply. Uber will need to add more services to keep drivers busy and increase their earnings.
Network effect is positive but only in each city, with drivers limited to supply and demand in their region.
Competition could be like the airline industry, with ongoing price discounting and continued investments. That said there are more airline companies than ride-sharing companies. The issue is concentration. Five cities account for 24% of revenue, 15% of bookings are airport related. These routes will likely always be competitive, locally Ola recently promoted A$25 flat fares to the airport for journeys 20km or less.
We believe SoftBank's role as an investor will help determine whether the industry has more technology like economics or be more transportation like.
Buckled in for an expensive ride
The size of the transportation market is measured in trillions, not billions like most companies. Uber is changing the way the world moves, delivering people, freight and even food without owning vehicles (for the time being) or employing drivers — however the valuation is high. We believe Uber has to cross sell their ride-sharing platform into new products similar to Uber Eats for a path to profitability. There are real risks to Uber; it's not purely technology economics at scale, so we require a discount for the uncertainty.
Pooling a ride with Softbank at a discount
We're not participating in Uber's IPO due to our assessment of the risks above putting it in the too hard basket. But at the "right" price it could make sense, the price or valuation paid for an investment matters; a "low" price reduces the risk of loss. SoftBank's Vision Fund bought into Uber pre-IPO at a roughly US$42 billion valuation. SoftBank itself trades at a discount to the value of its equity holdings, reducing our concerns. Additionally, we believe ride-sharing will have multiple regional players rather than one dominant global company, leading us back to SoftBank. Uber's driver network effect in the US does not help customers in Australia.
SoftBank's paying for the ride
SoftBank shares were cheap enough that the founder Masayoshi Son announced SoftBank will be buying back 6.5% of its shares. His calculation of the equity value of Softbank's holdings minus debt equalled JPY 21,688 per share as of 9 May 2019. (This does not take into account Uber's IPO pricing.) Softbank was trading at 10,925 yen as at 10 May 2019, a significant discount. Masayoshi Son is rumored to be contemplating an IPO of the Vision Fund, with investments in Slack and others alongside Uber to further unlock this valuation discount. Outside of the Vision Fund, SoftBank's largest investment is Alibaba. Based on SoftBank's valuation discount, we're ride-sharing with Softbank not Uber.
---
The Spaceship Universe Portfolio and the Spaceship Index Portfolio currently invest in SoftBank.
Important! We're sharing with you our thoughts on the companies in which Spaceship Voyager invests for your informational purposes only. We think it's important (and interesting!) to let you know what's happening with Spaceship Voyager's investments. However, we are not making recommendations to buy or sell holdings in a specific company. Past performance isn't a reliable indicator or guarantee of future performance